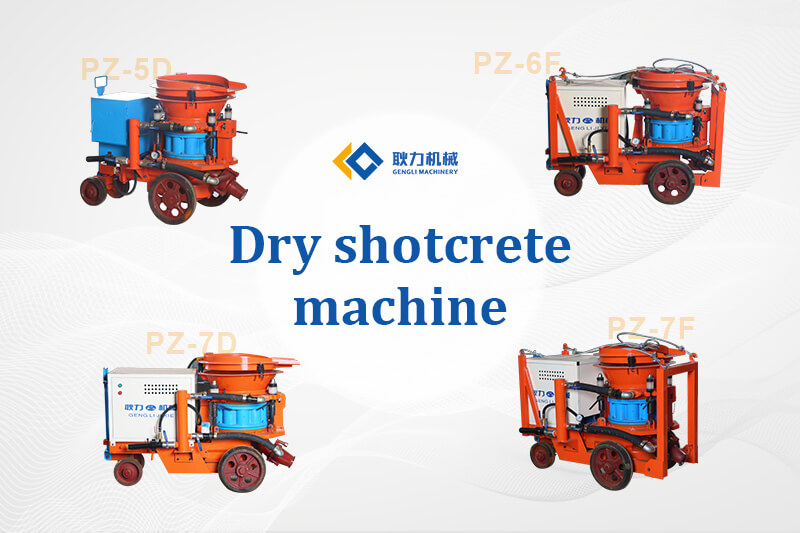 With the development of civil engineering in China, the importance of the shotcrete-anchor support for tunnels, foundation pits, and slopes has been highlighted. As a strong manufacturer in the shotcrete-anchor support industry for 27 years, Henan Gengli will naturally not be left behind. In 1999, the first concrete shotcrete machine went online with the model starting with PZ, presently, the PZ series concrete shotcrete machine is still very popular at home and abroad.
Gengli PZ series shotcrete machine is also called concrete spraying machine. It is used for dry spraying and wet spraying of concrete. It adopts a unique rotor structure, with stable performance, strong anti-clogging ability, high spray coating quality, and Long service life. It is widely used in sprayed concrete construction operations such as mines, tunnels, culverts, subways, slope support, hydropower, and underground projects.
Advantages are as follows:
1. Straight-through rotor type non-adhesive material cavity, smooth discharge, high efficiency
and time saving, reducing cleaning and maintenance.
2. Four-point elastic compensation and compression, good sealing effect, less dust around the machine, and long service life of wearing parts.
3. Low-pressure and high-speed vortex air conveying, to overcome the problems of sticking, pipe blockage and pulse separation in material conveying, and the material flow is uniform, continuous and stable.
4. The nozzle is made of high polymer material by pressure injection to improve the spray effect, with high spray layer quality and less rebound.
5. The spare parts required for the equipment are all produced by our company, made of high wear resistance and high alloy material, strong wear resistance, long service life, economical and durable.
In addition to the technical advantages of the product itself, the structure design of the product is also extremely reasonable. PZ series rotor shotcrete machine is mainly composed of driving device, rotor assembly, air duct system, spraying system and electrical control cabinet.
1. Driving device
A fully enclosed reducer is installed at the bottom of the machine, with three-stage gear rotation, and the transmission efficiency can reach 92%.
2. Rotor assembly
A unique straight-through rotor is adopted, and each round hole is lined with a rubber material cavity made of non-bonded material, thereby improving the machine's ability to handle wet materials and reducing the cleaning and maintenance.
3. Air dust system
Three ball valves are used to control the main air path, the upper air path and the lower air path. Another small air pipe is used to supply air to the hopper vibrator. A pressure gauge is installed in the lower air path to monitor the working pressure of the conveying pipe.
4. Spraying system
Composed of a conveying pipe and a nozzle. The conveying pipe adopts a wear-resistant shotcrete pipe. The nozzle is injection molded from a polymer material. The water pipe, water ring and water valve are fixed on the nozzle.
5. Electrical control cabinet
The control cabinet is composed of a leakage air automatic switch, a screw-type fuse and a start and stop button; It can realize the protection functions of leakage, overcurrent, short circuit and so on.